Unfair Trials Report II : the Death Penalty is Not the Common Value of Asia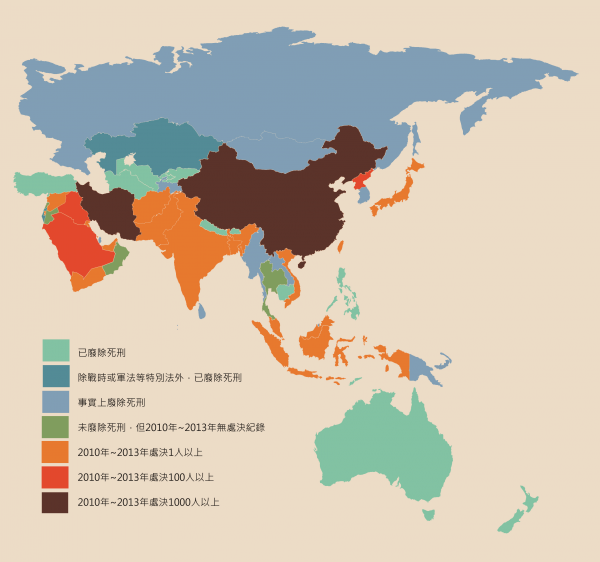 In Asia, the death penalty is used still quite widely. In 2013, a total of 23 countries worldwide reported executions, according to Death Penalty Worldwide, a Cornell Law School project. Sixteen of these countries are located in Asia. Almost 80 percent of all executions worldwide in 2013 took place in Asia (Iran, Iraq, Saudi Arabia). If international estimates of the number of executions in China are factored in, most likely more than 95 percent of all death penalties were carried out in Asia. If we can encourage Asia to march toward the abolishment of the death penalty, the number of executions will decline markedly.
Although the countries with the most executions are concentrated in Asia, there are Asian countries that have already abolished the death penalty in law or in practice. The existence of these abolitionist countries is best evidence that the principled rejection of the death penalty transcends regional boundaries.
As for the execution of those with intellectual disability or mental illness, various Asian countries that retain the death penalty have already established protection safeguards by law or precedents. However, the typical examples of unfair trial cases submitted by the ADPAN members show that these protection safeguards are not necessarily put into practice. Since mentally impaired and intellectually disabled people might be handed even more severe verdicts due to their inability to defend themselves or express regret adequately. It is one of the most fundamental obligations of civilized countries to implement protection measures for mentally impaired and intellectually disabled persons in criminal justice proceedings.
As members of the international community many Asian countries have already ratified, acceded or accepted the International Covenant on Civil and Political Rights (ICCPR). Mongolia has meanwhile even ratified the Second Optional Protocol to the ICCPR, pledging to abolish the death penalty immediately. Nevertheless, even accession to the ICCPR does not mean that a country loyally fulfills its international human rights obligations. The law does not enforce itself. Human rights do not materialize automatically with the covenant's signing. Only if countries carry out their obligations under the covenant faithfully, human rights will shine a light in the darkest corners of the world.
This report highlights the death penalty situation and executions in Asian countries between 2010 and 2013.  It also gives an overview over the legal protection measures for the mentally impaired and intellectually disabled in Asian countries where the death penalty is used.  Furthermore, we have listed Asian countries that have acceded to the ICCPR and its Second Optional Protocol. We have also collected excerpts from international human rights documents. By using these documents for mutual reference, death penalty activists in Asia will be able to get a more comprehensive picture of the use of the death penalty and executions in Asian countries. The report can be downloaded here: The Unfair Trials Report II .
Since many Asian countries do not publicize execution figures, and in a bid to circumvent the language barrier, the figures used for this report are based on a comparison of data in English-language sources such as: Death Penalty Worldwide, the World Coalition Against the Death Penalty (WCADP), Amnesty International's Death Sentences and Executions reports of 2010 through 2013, as well as the Death Penalty Information Center. Also taken into account was information that ADPAN members reported back from the frontlines of the death penalty movement. We were very careful and conscientious but we have to admit that there is still room for improvement. Please contact ADPAN ([email protected]) should you have any further information.